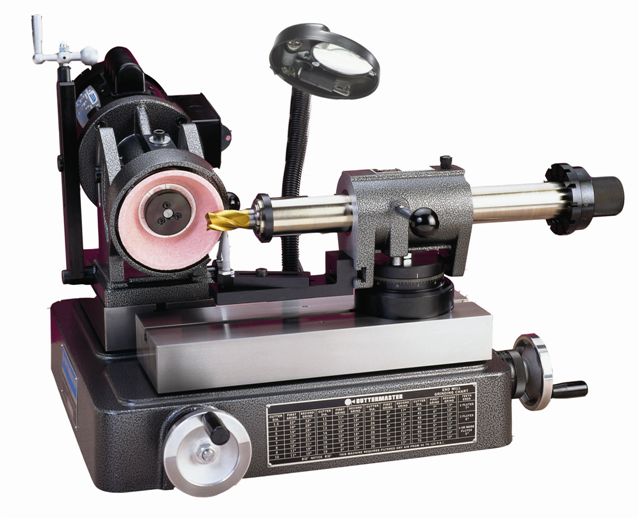 Grinds O.D.s and ends of standard end mills in one setup within just a few minutes.
Extremely versatile and is used for much more than just end mills. With the z-axis you get 8 different axes to work with for unlimited versatility.
1 Machine grinds it all end mill, drills, roughing endmill, taps, countersinks, carbide tools, radius end mills, lathe tool bits, various forms tools, reamers, performs gashing and much more.
The pneumatic finger instantly and automatically sets primary and secondary clearance angles with the flip of switch.
Dials zero out.
Air bearing has a 360 degree swivel base for taper grinding.
The Jet-Stream air bearing fixture is precision honed and capable of grinding to close tolerances. The spindle sleeve is made from stainless steel and the spindle itself is hard chromed steel.
Takes standard 5C collets, with end mill holders available that can hold shank sizes up to 2".
Tables are cast 2" iron and precision ground.
Motor/spindle assembly tilts to positive and negative angles, cutting tool clearance angles can be adjusted as needed.
Grinding chart provides clearance angles for all end mills from 3/16"-3".
1 year warranty against factory defects and workmanship.
Air bearing stroke - 10.5"
Air bearing swing over table - 9.8".
Cutting tool capacity - 2" shank, 9.8" O.D., 10.5" flute length
T-Slot dimension - .800 x .500 x .670
Table feed graduations - .001 or .02mm
X-Axis table travel - 6"
Y-Axis table travel - 3", plus motor sildes back & forth 6"
X-Axis table working space - 16.5" x 5.5"
Y-Axis travel working space - 13" x 5.5"
Wheel - 5" cup (or 6" dish with Z-axis), 1-1/4" arbor Motor tilt - +35/-8 degrees
Motor - 1/3 hp, 3450 rpm, 110v/60hz or 220v/50hz
Net weight - 180 pounds 82 kilos,br> Gross weight - 232 pounds / 106 kilos
Machine dimensions, not including handles - 21" x 20" x 21"
Shipping dimensions - 30" x 28" x 29"
CUTTERMASTER 2012 Price List

New for 2012
Drill Sharpening Attachment for the CUTTERMASTER